More than 10 years lamp shade finials manufacturer. - Manufacture Professional lamp finials. We not only provide excellent lamp topper finials products, but also lamp finials solutions related services.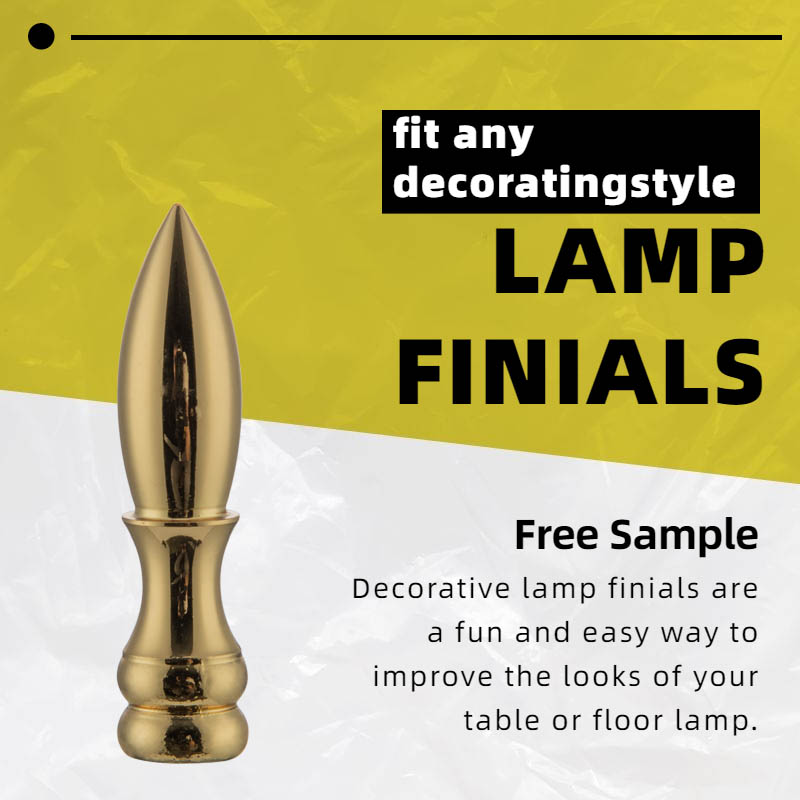 Lamp Finials Manufacturer, Factory, Supplier In China
QINGCHANG is the best lamp finials manufacturer, factory, and supplier. Located in China, we have been designing, manufacturing, and wholesale unique and stylish lamp finials since 2005. Specializing in brass, antique, bronze, crystal, Acrylic, Glass, Shell, Wood, and Iron lamp finials in many styles from Traditional, to Modern.
Lamp shade finials finishes include: Polished Brass, Antique Brass, Burnished Brass, Satin Nickel, Antique Silver, Chrome, and Gold.
We provide lamp finials products to USA supermarkets for at least 20 years and produce lamp finials products for more than 40 years.
Our company provide one step lamp finials shopping source. These lamp finials for every decorating style which are made from a variety of high quality materials.
No matter your style, no matter the lamp size, we also have a lamp finial that will help to complete it. Traditional designs with intricate filigrees, or flowing shapes that exude quiet elegance; playful animal figurines or beautiful seashell shapes to accent your seaside home; we can provide everything to everyone. Your choices are nearly endless.
In addition to our company enormous selection, we also pride ourselves on the quality of our lamp finials. You would be hard-pressed to find lamp finials at a higher quality than ours, and we stand by that. From solid cast metals to delicate inlays, we craft our lamp finials from the start with quality in mind. So check our catalog and find the perfect lamp finials for your lamps!And we accept any custom idea ,just tell me and we can try to finish for you.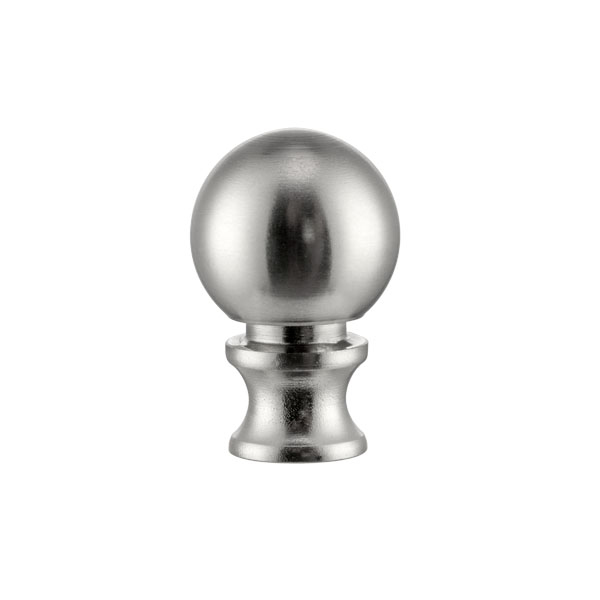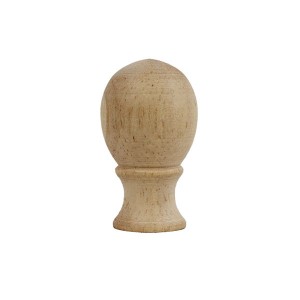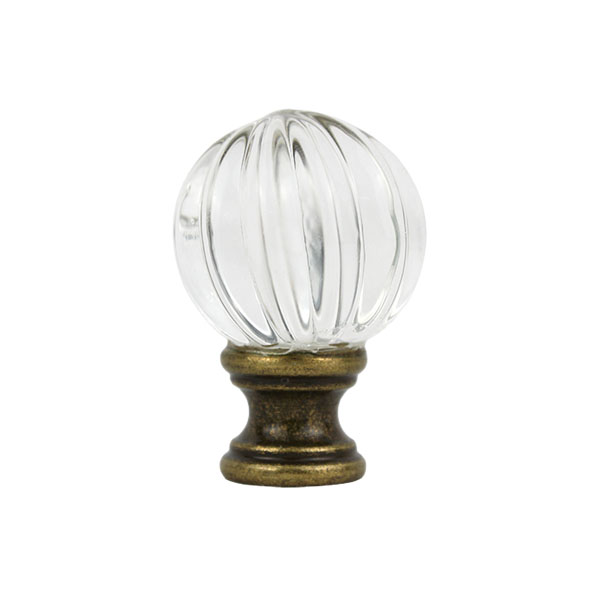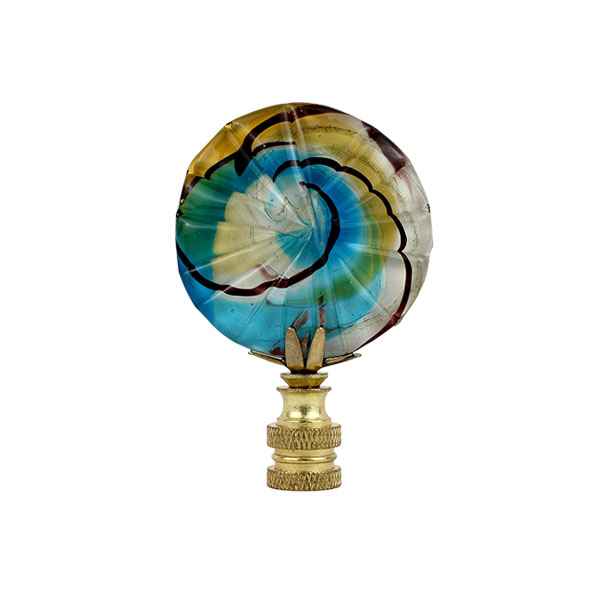 Couldn't find what you looking for?
Generally, there are stocks of common lamp finials or raw materials in our warehouse. But if you have special demand, we also provide customization service. We also accept OEM/ODM. 
Why Choose Us As Your Lamp Finials Supplier In China
As a professional lamp finials manufacturer and factory, our positioning is to be a customer's technical, production, after-sales, R&D team, quickly and professionally provide various lamp finials solutions to solve various lamp finials problems encountered by customers. Our customers only need to do a good job in the sales of lamp finials, the other things such as controlling cost, lamp finials design & solutions, and after-sales, we will help customers deal with it in order to maximize customer benefits.
Frequently Asked Questions About Lamp Finials
Lamp finials usually have this materials.
100% metal material (zinc alloy,iron,copper,Aluminum alloy, 304 stainless steel)
Metal base with glass/crystal top
Wooden material
Metal base with ceramic top
Plastic material
Finials have a standard 1/4-27 thread, which will fit the harp on almost every lamp. (This means the opening is 1/4 wide and there are 27 threads per inch.) 95% of all lamp harps will fit this finial.
LAMP Finial sizes vary greatly. A lamp finial can have a length as small as 1.5 inches or as long as 9 inches.
A finial is an ornament that helps to secure the lampshade in place. Though functional, finials come in many unique varieties, doubling as a decorative feature and adding the finishing touch to your look.
Most lamp finials have a ¼-27 thread and screw onto a lamp harp. Some lamps do require a finial with a larger hole. This is usually a 1/8-ip thread and measures approximately 3/8" in diameter.
Lamp Finials - QINGCHANG, China Premier Supplier and Manufacturer
What Is A Lamp Finial?
Lamp finials set on top of a lamp harp and hold a washer fitter shade to the top of a lamp. They are often decorative or ornamental but can also be plain. A large finial would be 4 inches and a small finial would be about 1/2 inch.
Lamp Finials screw on the top of a lamp harp. Most all finials are tapped 1/4-27F thread just like the top of a lamp finial. Some specialty lamps have a cluster and their finial could be a 1/8IP or 1/4-27F tapped thread.
Lamp Finials are made from a variety of materials. Most lamp finials are cast metals like steel and brass. Other finials might be made from resin, wood, and acrylic. Sometimes finials have multiple materials like when a glass prism sets on a metal base.
You can make a custom lamp finial out of almost anything.
How to Choose the lamp finials
When shopping for lamp finials, consider the material, color and finish.
First, select a material that matches or complements the lamp shade . The most common lamp finials materials are wood, metal, brass and nickel.
Popular lamp shade and lamp finials combinations include:
Nickel rods with nickel or glass lamp finials
bronze lamp finials
brass or glass lamp finials
wood lamp finials
Next, select a color and finish that matches your lamp shade.
Though there are many standard combinations, remember that there are no set rules when it comes to lamp shade hardware and accessories. Use your best judgment or eye for design when it comes to choosing the right lamp finials for your lamp shade.
Lamp finials do the important but largely unheralded job of holding lamp shades securely on lamps. Small things like lamp finials can make a big difference in design, however.
Find your best lamp finials
Whether you want to update the look of a lamp or simply need to replace a lost or damaged lamp finial for your lamp shade, we carry a big assortment of lamp finials. These also make the perfect complement for holding a brand-new lamp shade on a lamp.
Our lamp finials for lamps make perfect lamp finials for table lamps as well as for floor lamps. These lamp shade lamp finials are available in many designs so you can pick exactly the right one to set exactly the right mood in your home or workplace.
By replacing a boring old cap with a well-designed finial, you can put the finishing touch on the design of any room. Whether you are looking for brass lamp finials, glass lamp finials, antique brass lamp finials or some other design or material, you'll find what you're looking for here.
At lamp accessories field, we pride ourselves on carrying a full inventory of lamp parts like lamp harps and lamp finials as well as lamps and lights.
From simple to fun
Our designs range from formal styles suitable for an executive suite or elegant dining room to whimsical patterns ideal for game rooms, dens and other places where you want to relax and put guests at their ease. You'll find lots of nature designs featuring animals or flowers that will inject life and grace into a space as well as geometrical designs that make a simple but powerful statement.
If you need a new shade to complete a design makeover, make sure to visit our lamp shade department. We not only produce lamp harp,lamp finials,also provide nice design lampshade.The most inportant is we accept any custom design demand,we can try to finish your demand and produce them.